DENTAL VENEERS IN SAN ANTONIO, TX
At New Heights Dental, we provide teeth veneers for patients who want to correct and restore their smiles. Veneers are slim, custom-made covers that adhere to the front of the teeth to create a beautiful, natural look.
Our team offers the very best dental veneers in San Antonio, TX and beyond because of the careful approach we take with each individual patient's treatment. Prior to all cosmetic dental treatments, we will take into account your complete health to ensure you get the dazzling, healthy results you deserve!
What Are Teeth Veneers?
Teeth veneers, also known as instant orthodontics, are ultra-thin front teeth covers designed to beautify the smile.
These cosmetic covers are durable, yet slim enough to blend naturally with the rest of the smile. Whether you want to correct small flaws, cracks, gaps, or broken teeth, veneers at New Heights Dental an excellent option for comfortably attaining a whiter, brighter, straighter smile.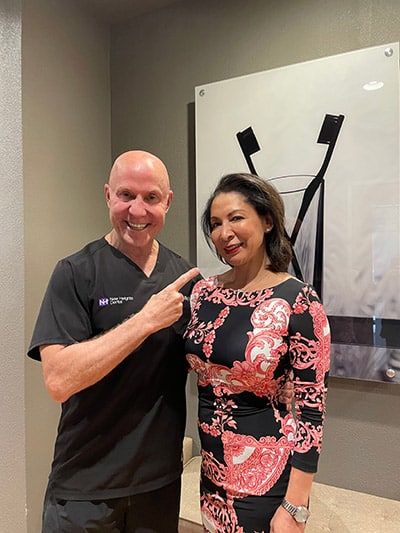 If you are struggling with the following imperfections, you could be a great candidate for veneers:
Receding gums
Misshapen teeth
Chipped and broken teeth
Gap-filled smile
Discolored and stained teeth
We offer the following dental veneers systems:
Porcelain Dental Veneers
Porcelain dental veneers are ultra-durable, long-lasting front teeth covers that are custom-crafted to fit the unique appearance of each patient's smile. Unlike other veneers systems, porcelain veneers deliver the most natural-looking results. And, when they are cared for properly, they can last decades!
How Much Do Dental Veneers Cost?
Your out-of-pocket dental veneers cost will mostly depend on your dental insurance coverage. If you do not have dental insurance, you are welcome to join our membership program, a discount plan that offers deep price cuts on all different types of dental treatments.
We also accept no-interest and low-interest financing plans through CareCredit, LendingPoint, and Wisetack, which can be used alone or in conjunction with your insurance.
Give us a call 210.828.5300 to learn more about financing your dental veneers. Our team is happy to help!
Schedule Your Dental Veneers Consultation
Make New Heights Dental Your New Dentist's Office Today!