PREVENTIVE CARE & DENTAL CLEANINGS IN SAN ANTONIO, TX
Your local San Antonio, TX dentists and their skilled team provide a wide range of cosmetic and restorative services, but the true focus of our practice is prevention.
New Heights Dental offers the top preventive care and dental cleanings near San Antonio, TX, delivering personalized treatment solutions with advanced dental technologies. This combination ensures you'll always receive customized, comfortable care from our dentists!
And with our 3D digital x-rays, intraoral scanner, and infrared cavity detection, we can spot potential issues before they get the chance to become bigger problems. We offer the following preventive care services at our San Antonio dental office: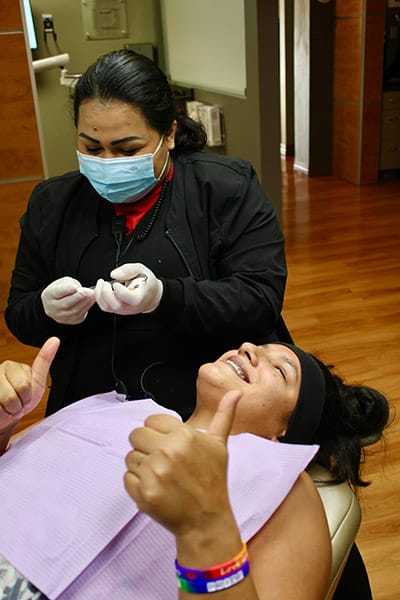 Professional Teeth Cleanings (Prophylaxis)
To keep your teeth healthy in between appointments, we recommend that all of our patients receive dental cleanings at least twice each year to prevent disease and other oral health issues from arising. Depending on the current state of your oral health, they may recommend more frequent, targeted cleanings.
For dental cleanings, our team uses the latest dental tools to provide rapid, comfortable care, eradicating plaque along the way. Afterward, they will polish your teeth to help remove stains and discoloration. In some instances, we may even recommend an additional fluoride treatment to help strengthen the teeth even further, or halitosis treatment for patients who suffer from persistently unpleasant breath.
Night Guards For TMJ Pain
Do you grind your teeth (bruxism) while you sleep? This habit can contribute to headaches, TMJ, and uneven tooth wear. To correct the problem and preserve your healthy teeth, we offer custom-made night guards that are as effective as they are comfortable.
Essex Retainers / Tooth Pajamas
Essix retainers are clear, plastic retainers that are removable and customized to fit over teeth. They look similar to clear aligner trays. But unlike aligners, retainers don't move teeth. Instead, they keep teeth in place.
Desensitizing Treatments For Sensitive Teeth
If you are sensitive to hot and cold, and you avoid certain foods or drinks because of this, our team has a solution for you! After ruling out any serious causes, our dentists will apply a special paste designed to minimize your sensitivity for months. They will even provide recommendations on how you can keep your teeth from becoming sensitive in between your regular treatments at our office.
Ultra Sonic Dental Cleaning
Ultrasonic dental cleaning, also known as ultrasonic scaling, is a dental procedure that uses high-frequency sound waves to remove plaque, tartar, and stains from the teeth. It involves the use of a handheld device that emits vibrations and water, providing a thorough and efficient cleaning process.
Soft Tissue Laser Therapy
The best thing about soft tissue lasers is their ability to offer precise and targeted treatment, minimizing damage to surrounding tissues and reducing the need for sutures. Additionally, soft tissue lasers often result in faster healing times and less post-operative discomfort for patients.
Top Preventive Care & Dental Cleanings In San Antonio, TX
Your best, healthiest smile awaits! Call today 210.828.5300 to schedule your dental cleaning or preventive care appointment.
Make New Heights Dental Your New Dentist's Office Today!